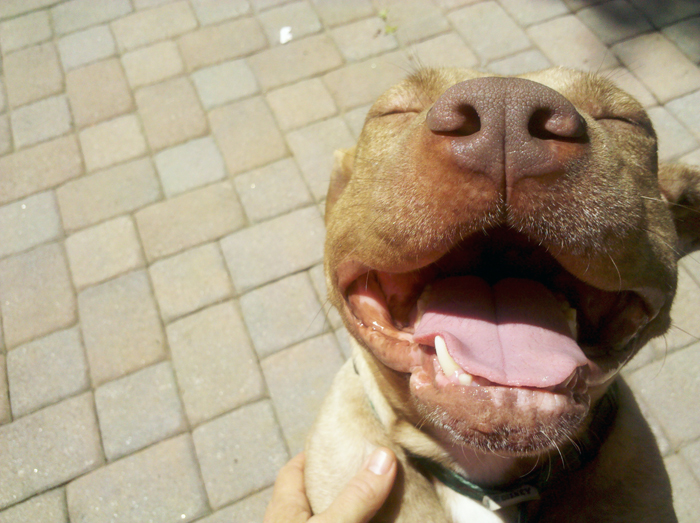 Sweet Charlotte came to the shelter a couple of months ago with her housemate, Georgia.  Both dogs had bad ear infections and unfortunately Charlotte's required some fairly extensive surgery to heal hers.  Thanks to the generosity of our Sammy's Hope supporters, we were able to send her to get the medical care she needed.  She has been staying with a foster family while she healed and is set to return to the shelter during the week of July 3rd.  Charlotte won the hearts of her foster family, but since she really needs to be an only-dog, they are not able to make her a permanent member of the family.  This is what they have told us about her:
Charlotte LOVES people and is very affectionate! She is a great companion and it doesn't take much to make her happy! She is my shadow when I am gardening and is Jim's shadow even when he is picking up the dog poop in the backyard. She doesn't have much of a prey drive and there is a slim-to-none chance of her running away, since her main goal in life is to be near people! She likes to sit on the deck outside spend hours just watching the neighbors play in their pool. I often wonder what is going through her mind when she is quietly observing life around her.

Charlotte is a very content dog. Pet her belly and you've made her whole day! She has absolutely no interest in playing with toys. I tried to get her to fetch, but she just wants to follow me and couldn't care less about the ball! She also has no interest in playing with other dogs and would do best in a home where she is the only pet and could get all the attention to herself. She is a pretty finicky eater. Hates dry dog food and really hates vegetables. She loves hot dogs though and that's pretty much how I got her to take all of her medications. Charlotte likes music and especially classic rock. She is very well crate trained and the only time she barks when she is in her crate is if she has to pee or poop. She would make a great pet for a very lucky family!!
If you are interested in learning more about Charlotte or fostering/adopting her, please contact us or fill out an adoption application online! [gallery link="file" order="DESC" columns="2" size="medium"]